40 YEAR MEMBERSHIP AWARDS

Bimbo Bakeries USA member Mario Moreno receives 40 year membership Award from BCTGM Local 24 Business Agents Juan Mejorado and Oscar Hernandez at the BBU/Oroweat Bread Plant in South San Francisco. The Local is proud of Mario's long and healthy work life. We wish him many more years of healthy and safe work.

Safeway member Richard Pulizzano receives his Forty Year Membership Award for BCTGM Local 24 Business Agent Oscar Hernandez at his home in Petaluma, California. Brother Pulizzano has been a Bakers Local 24 member since 1973 and has recently retired.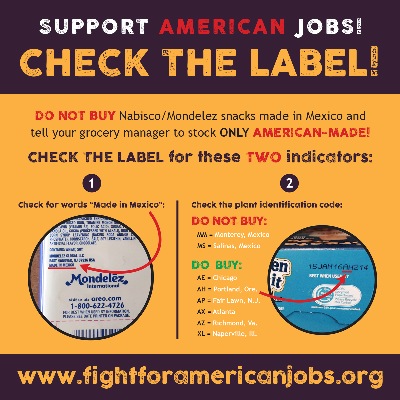 Support American Nabisco Workers

BCTGM members working at Nabisco plants throughout the U.S. take great pride in producing the iconic products that have been a part of millions of Americans' lives for more than 50 years.

Today the BCTGM has launched a public education campaign encouraging Americans to "Check the Label" to support American jobs by ensuring their favorite Nabisco products are produced in America before purchasing.

Through a simple label check, together we can send a powerful message in support of American jobs and products by rejecting those made at poverty-level wages and in unregulated work conditions.

Support American Nabisco workers

1) Check the Label: in the following ways: There are two ways to know if your Nabisco snacks are made in the U.S. or Mexico: Check for the words "Made in Mexico" under the ingredient list Check the plant identification code, which is part of the expiration date code: do not buy if the initials "MM" or "MS" are listed (flyer link). The initials AE, AH, AP, AX, AZ and XL all indicate American-made products.

2) Tell your grocery or convenience store manager to only stock American-made Nabisco products. Send a clear message to companies like this that we will not accept the outsourcing of good American jobs and the American middle class. Do not buy the snacks being produced by Nabisco/Mondelēz in Mexico.

Check the label and ONLY BUY AMERICAN-MADE.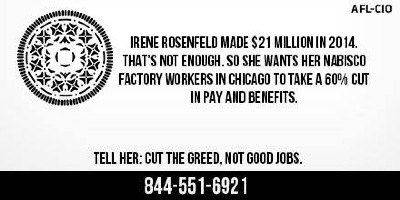 Generations of BCTGM Local 300 families from this Southside Chicago community have produced Nabisco products for more than five decades. Sign this petition to Mondelēz/Nabisco CEO urging her to stop outsourcing American jobs to Mexico: http://bit.ly/1QGFVdA

Bakers Local 24 Contracts to Install Solar Panels at the Union Hall and Office Building in San Carlos

(Pictured left to right Local President Jack Reiken, E-Board member's Miguel Alfaro, Bartolo Rodriquez and Jose Anguiano, Business Agent Oscar Hernandez, Secretary Treasurer Joe Biringer)

The Local is proud to announce that we have gone "green" with the installation of two arrays of Solar Panels on the roof of our main Union Hall and office building. The output of these arrays will reduce our electric usage down to almost zero. The project has been on the drawing board since we moved into our current location in October 2013 with certain funds in the sale of our old property being designated towards this project. We believe this project will provide continued financial security for the Local Union as well as doing our part to reduce our energy dependence on non-renewable sources.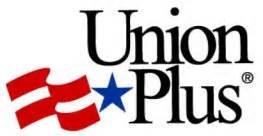 UNION/PLUS Discounts and Savings Website

Union Plus is brought to you by Union Privilege, established by the AFL-CIO to provide consumer benefits to members and retirees of participating labor unions.

It pays to be a Union Member!

7 Reasons to be thankful for my Union!

Family and friends gathering in one place, cooking together, and sharing all of the things they're most grateful for is why Thanksgiving is my favorite holiday. My family takes the being grateful thing seriously and this year I'm going to take time to say why I'm grateful for my union (but really: all unions). We spend most of our time working so anything that improves that part of our lives is worth our gratitude. So in the spirit of Thanksgiving, here are 7 reasons why I'm thankful for my union:

1. Fair & equal pay is a guarantee with my union!

Equal pay for equal work is not always a guarantee for women in the US. Recent data shows that the gender pay gap still exists for many women today. In fact, women are said to earn 77 cents on average for every dollar their male counterparts bring home. And the gap only increases for women of color. For every dollar a man earns, a Latina earns an average of 54 cents! While there are efforts to tackle this pay gap affecting millions of women, there is one sure-fire way to ensure I earn the same salary as my male counterparts: My union contract. It's clear as day how much I earn and how much my coworkers earn. Not to mention studies showing women in unions earn 11 percent more than non-union workers.

2. I have a voice at work

When my co-workers and I stand together, it's simple: our managers listen. We frequently have ideas on how to improve work flow and increase efficiency and through our union we have a process and a forum to bring those ideas to our organization. No matter what you do or where you work, you have first-hand knowledge of how to make your job and your workplace better. That's something we all share. But I know from experience, when you're alone it can be tough to get your voice heard. Having a union standing behind you? Now that's an entirely different story.

3. My union is democratic

Everything we do, we vote on. It could be what officer we want to elect, if we want to approve changes to our contract, and so much more. We have committees that go into detail on topics and then report back to a larger group who then votes on any new proposals. There's a lot of things in this world that seem unfair and unclear but - even if I disagree with the outcome of a vote – I know our system is fair and it's always transparent.

4. My benefits

As a millennial with lots millennial friends, I know the benefits I have at work are rare to find without a union contract. If I'm sick I can take a day off. If someone in my family gets sick, I can take care of them. I have retirement security! As I see my grandparents and parents aging, I understand how important yet difficult or impossible (unless of course you're a millionaire CEO) it can be to save up enough to stay out of poverty when you retire. So many people today are just trying to find work that puts food on the table. But with a union, you can negotiate for so much more than just a decent wage. You can bargain for benefits that improve your life beyond your paycheck and give you some security when you and your family need it the most.

5. I have job security

My boss is great but anyone who has worked in a bad job before knows this isn't always the case. There are managers who come into your life and it seems like their mission is to just ruin your day. In other jobs when I didn't have a union, I would see coworkers get disciplined (and even fired!) for the most asinine reasons. But without a union, it felt like there was nothing I could do to help them. With a union, I have due process if I mess up or if a manager thinks I messed up. I have a chance to defend myself with someone by my side every step of the way.

6. Unions make my world better

It's easy to focus on the things that directly impact me in a tangible way like salary and benefits thanks to my union. But truth be told I'm also grateful to live in a world where unions exist. There's so much good that has come from unions. The kind of stuff that seems so normal today: weekends, overtime pay, workplace health and safety laws, voting rights, an end to child labor….I can go on and on. Nearly everything that helps working class and low-income people in our country comes out of a union struggle. There's no shortage of examples of people standing together throughout our history to change the status quo.

7. My union builds community where I work

I'm closer with my coworkers because of our union. Our union brings us together. Union meetings and bargaining sessions (and maybe a few happy hours!) give me a chance to get to know them outside of work, especially the coworkers who I may not work with directly every day. There's nothing better than going to work everyday and liking the people you work with and feeling a sense of community.

Contact Bakers Local 24! All conversations are confidential and we will treat you with respect.

Juan Mejorado, Oscar Hernandez and Veronica Marez are available to listen and help if we can. 650-364-0990

WHAT IS A UNION?

A union is a group of workers who form an organization to gain:

Respect on the job

A counter-balance to the unchecked power of employers

More flexibility for work and family needs

Better wages and benefits


What have unions accomplished for all workers?


Unions have made life better for all working Americans by helping to pass laws ending child labor, establishing the eight-hour day, protecting workers' safety and health and helping create Social Security, unemployment insurance and the minimum wage, for example. Unions are continuing the fight today to improve life for all working families in America.

What challenges do workers face today when they want to form unions?

Today, thousands of workers want to join unions. The wisest employers understand that when workers form unions, their companies also benefit. However, most employers fight workers' efforts to come together by intimidating, harassing and threatening them. In response, workers are reaching out to their communities for help exercising their freedom to improve their lives.

What kinds of workers are forming unions today?

A wider range of people than ever before, including many women and immigrants, are joining unions—doctors and nurses, poultry workers and graduate employees, home health care aides and wireless communications workers, auto parts workers and engineers, and more.

How do unions help working families today?

Through unions, workers win better wages, benefits and a voice on the job—and good union jobs mean stronger communities. Union workers earn 25 percent more pay than nonunion workers and are more likely to receive health care and pension benefits than those without a union. In 2001, median weekly earnings for full-time union wage and salary workers were $718, compared with $575 for their nonunion counterparts. Unions lead the fight today for better lives for working people, such as through expanded family and medical leave, improved safety and health protections, and fair-trade agreements that lift the standard of living for workers all over the world.


How do people form a union?


When workers decide they want to come together to improve their jobs, they work with a union to help them form their own local chapter. Once a majority of workers show that they want a union, sometimes employers honor the workers' choice. Often, the workers must ask the National Labor Relations Board (NLRB) to hold an election. If the workers win the election to be represented by the union, they negotiate a contract with the employer that spells out each party's rights and responsibilities in the workplace.

Contact us at Bakers Local 24 if you have any questions or interest in forming a Union where you work. The National Labor Relations Board rules have changed regarding Union Elections. It is now easier to form a Union and hold a fair Union Election then ever before.

650-364-0990 (Joe, Oscar or Juan)


Your calls will be keep completely confidential and we have bi-lingual Business Agents.


Hispanic Workers and Union Membership

Hispanic workers in labor unions make more money and have better health and retirement benefits than those who aren't members, according to a new report

The Labor Council for Latin American Advancement (LCLAA) report released Monday concludes that organized labor must invest in expanding its outreach to Hispanics to help grow union membership and provide more leverage to strengthen collective bargaining laws.

Latino and immigrant workers are making significant contributions to our country, but are facing unprecedented challenges at the workplace and in their communities," said Hector Sanchez, LCLAA's executive director.

"Over 6.8 million Latino workers are earning poverty level wages and need the economic security the labor movement has ensured for America's middle class," he said.

The report said that Latino workers face higher wage thefts and death rates on the job and the lowest pension and health insurance coverage all while earning the lowest wages.

In one of the most striking findings of the report, Latinos who belong to a union earn on average $11,544 more than those not in unions.

The report also noted that Latinos represent an increasing share of the U.S. population, workforce and voting group as they face growing challenges in the workplace.

"Unions are at historically low levels of membership and urgently need Latinos and immigrant workers in order to grow," the report said.

"If unions are to survive and rebuild in the near future, there is no doubt that Latinos and all minorities will have to join the labor movement," the report said.

In 2014, 9.2 percent of Hispanic workers were members of a union, according to the Commerce Department.

Between 2011 and 2014, the number of Hispanic workers in a union grew by 6.25 percent to more than 2.2 million.

The report argues that "Latinos — by virtue of their enormous presence in the service-sector and construction — will play a pivotal role in bringing unions' share of the workforce back up to healthier levels."

The report comes as labor unions such as the AFL-CIO and congressional Democrats ride the momentum of unions' resurgent popularity.

They are intensifying their calls for legislation that increases wages, allow workers more control over their schedules and give them a stronger voice if they are fired for trying to organize in the workplace.

A study supported by the University of California suggests that participation in a union promotes more community involvement, the report showed.

"Although the current outlook for Latinos is uncertain, their potential for growth is impressive," the LCLAA report says.

"Wielding over $1.5 trillion dollars in purchasing power, making huge gains in the workforce and electorate, it's no surprise that the future for Latinos can be drastically different and positive," the report says.

"But in order to realize this potential, Latinos must harness their strengths and exert their voice in the workplace."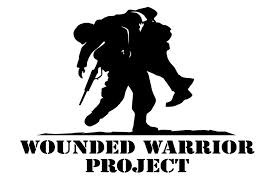 Wounded Warrior Project is a veterans service organization that offers a variety of programs, service and events for wounded veterans of the military actions following the events of September 11, 2001.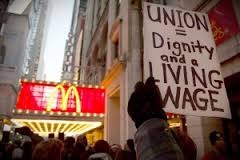 The phrase "wage theft" generally refers to employees being denied full compensation for their work under the law. Often, low-wage and immigrant workers are victims of wage theft and are denied meal breaks, overtime pay and minimum wage and are forced to work off the clock without pay. It is illegal to not pay or to underpay workers their wages.

Wage theft is getting more attention as it is a growing problem. Wage theft can occur when workers are not paid, underpaid or misclassified as independent contractors.

You deserve to be paid fairly for your work, including overtime hours.

The federal Fair Labor Standards Act (FLSA) requires that employees, unless specifically exempted—such as managers, certain sales employees and professionals—must be paid overtime if they work more than 40 hours in a week. The overtime rate must be one-and-one-half times your normal rate of pay after 40 hours of work in a workweek. Normally, overtime pay earned in a particular workweek must be paid on the regular pay day for the pay period in which the wages were earned.


The FLSA also prohibits the overtime requirement from being waived, even by agreement of the employer and employee. It is illegal for your boss to force or intimidate you into giving up your overtime pay, although a recent U.S. Supreme Court decision limited this condition for government employees. However, the law does not set any limits on the number of hours workers older than 16 years can work during a week.


The overtime law is enforced by the Wage and Hour Division of the U.S. Department of Labor. Your employer can be criminally charged for violating the overtime provisions of the FLSA, and it also is illegal for your employer to fire or discriminate against you for filing a complaint about an FLSA overtime violation.

There is a two-year statute of limitations on recovering back pay, unless the FLSA violation was deliberate and willful, in which case the statute of limitations is three years.

If you think you have been denied overtime pay, you can file a complaint with the nearest office of the Wage and Hour Division of the Labor Department. The complaint may be filed in person, by letter or by telephone, but it also must be made in writing. For information about various wage-and-hour and other workplace problems, visit the Interstate Labor Standards Association website.

It shouldn't hurt to go to work. In 2008, more than 4.6 million workers across all industries, including state and local government, suffered work-related injuries and illnesses that were reported by employers, with 3.7 million injuries and illnesses reported in private industry. Due to limitations in the injury reporting system and underreporting of workplace injuries, this number understates the problem. The true toll is estimated to be two to three times greater—or 9 million to 14 million injuries and illnesses a year. The health and safety of America's workers is detailed in the AFL-CIO Death on the Job report.

Experts agree that if you are injured on the job, you should:

Notify your supervisor, the personnel department and your union steward.
Get the medical treatment you need. You may be required to see a doctor selected by your employer. If you are injured on the job, your employer's insurance company is obligated to pay for reasonable and necessary medical treatment.
If your employer has written an "incident report," get a copy of it. Your union steward and the employer should obtain the names of workers who witnessed your injury or assisted you afterward, as you may need this information if you seek workers' compensation benefits.

You also may be entitled to temporary or permanent disability benefits or vocational rehabilitation benefits. If you file a claim for benefits and it is rejected, you may appeal the ruling, even to the courts. Experts recommend seeking legal advice.





.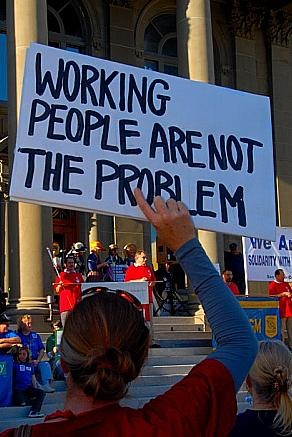 Welcome to Bakers Local 24! The Officers and Office Staff are here to serve you the membership. Please call with questions or issues you are expierencing at your worksite. we will try our best to help you.

Joe, Oscar, Juan or Veronica


You can reach us at 650-364-0990