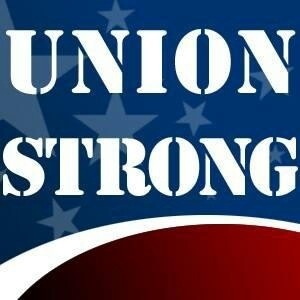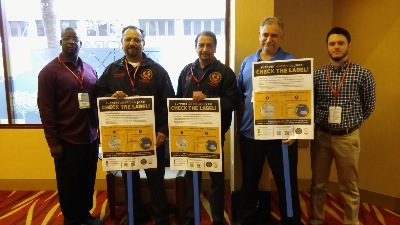 Pictured above are from left to right laid off BCTGM Local 300 Nabisco worker Anthony Jackson, Oscar Hernandez (Local 24 Business Agent), Juan Mejorado (Local 24 Business Agent), Joe Biringer (Local 24 Secretary Treasurer) and BCTGM International Organizer Nate Zeff. The BCTGM International Staff gave a presentation on the Nabisco/Mondelez Mexican Made Product Boycott at the California Labor Federation Convention held in Oakland on July 12, 2016

Latino Workers are at Greater Risk from On-the-Job injuries

Too many Latino workers face disease, major injury and death while laboring in dangerous jobs with inadequate safeguards. In 2014, 804 Latino workers died on the job, with 64% of these fatalities being Latino workers born outside of the United States. Latino worker deaths recently have decreased even though more Latinos are working in the construction industry than ever before: Nearly 70% of new construction jobs between 2012 and 2015 were filled by Latino workers. The job fatality rate among Latino workers has declined by 38% since 2001, when the rate of Latino worker fatalities reached its highest (6.0 per 100,000 workers). But Latino workers continue to be at increased risk of death on the job, with a fatality rate that is 9% higher than for workers overall.

The construction industry is the most deadly industry for Latino and immigrant workers, with 29% of all Latino fatalities and 26% of all immigrant fatalities occurring in this sector. Transportation accounts for 9% of Latino job-related deaths, agriculture for 8% and landscaping services for 8%. The number of Latino worker deaths in oil and gas extraction has increased more than 180% in the past five years.

Of all serious injury and illness cases that are reported, 14% are from Latino workers. Latino and immigrant workers often work in occupations with high rates of injury and in work environments where injuries areseverely underreported. For example, in 2015, an estimated 34% of meat and poultry workers were Latino, and the industry has extremely high rates of repetitive strain injuries, cuts and lacerations, falls due to wet working conditions and chemical exposures. Vulnerable workers, like Latino and immigrant workers, fear raising concerns on the job because of fear of retaliation by employers, like being assigned more dangerous work, getting fired or deported. Vulnerable workers often do not speak English, nor are they informed about their rights on the job.

This decline in Latino worker fatalities over the years did not happen by chance. Latino worker and advocacy communities demanded action from policymakers. Targeted programs informed Latino and immigrant workers that they have safety and health rights in the workplace, such as the right to demand protective controls on the job, to report unsafe working conditions and to refuse unsafe work. This increased attention also led to protective regulations and increased accessibility to training and materials in Spanish. But much more work remains to be done.

What can be done to protect Latino and immigrant working people on the job? We can:

Focus on high hazard industries with high Latino and immigrant worker populations

Improve rights for all working people and strengthen collective bargaining laws

Advance immigrant rights so all working people have full workplace protection

Strengthen whistleblower and anti-retaliation protections for reporting job injuries and hazards.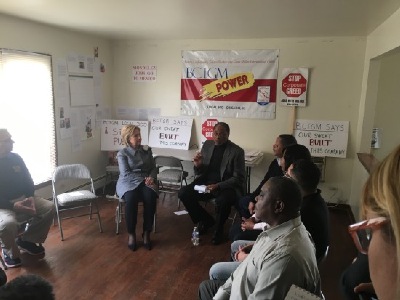 Following the BCTGM's official endorsement, Hillary Clinton issued the following statement:

"I am honored to have earned the endorsement of the Bakery, Confectionery, Tobacco Workers and Grain Millers International Union.

"Members of the BCTGM don't just help feed America—they helped build the greatest middle class in history.

"Members of the BCTGM know, as I do, that we are stronger together, when we are investing in our people and in the future. That's why I have a comprehensive manufacturing agenda to create good-paying jobs and spur new industries—because we can and we will "make it in America."

"I was honored to meet with BCTGM members in Chicago earlier this year who had been trying to work with Nabisco to keep good-paying jobs in America. For years, Nabisco had received tax breaks and investments from the people of Chicago and the people of Illinois to expand production—only to turn their backs on their workers and on the community by announcing plans to shut down the long-standing factory and move production to Mexico. That's wrong. And that's why I have called for creating a "clawback"—if a company turns its back on America, they should have to pay back every penny of the tax breaks they have received, and we'll use that money to reinvest in affected workers and communities.

"As President, I will always have workers' backs. I will stand with the BCTGM to fight for workers' rights to organize, to bargain collectively, to be safe on the job, and to retire with dignity and security after years of hard work. Workers will always have a seat at the table and a champion in the White House—because when workers are strong, America is strong."

BCTGM Endorses Hillary Clinton for President

Kensington, Md. — The Bakery, Confectionery, Tobacco Workers and Grain Millers International Union (BCTGM) has announced that it is endorsing Hillary Clinton for President of the United States.

The following statement was released by BCTGM International President David B. Durkee in declaring the union's endorsement:During her career, Hillary Clinton has had a solid record of support on those issues most important to working families and union members, including workers' rights and organizing, workplace health and safety, health care, progressive tax policy and retirement security.

Further, we are confident that Secretary Clinton will continue to seek the input and counsel of the AFL-CIO and its affiliates in developing her policy positions and priorities for our country.

The BCTGM also believes that Secretary Clinton's enormous experience in foreign affairs will strengthen our nation and enhance the security of our citizens.

While Donald Trump talks a good game on maintaining American jobs, his companies have a notorious history of outsourcing work to low-wage countries such as Mexico and China.

Beyond his advocacy of policies that are against the interests of working people and organized labor, Donald Trump's vile bigotry towards Latinos and other ethnic groups is deplorable and antithetical to the principles and values upon which this Union was built and to which we will always adhere.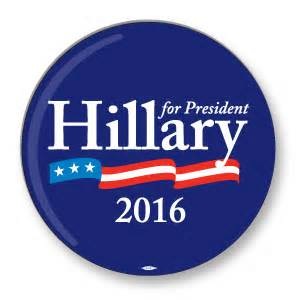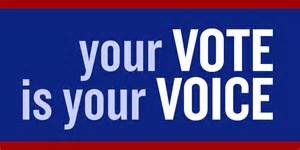 November 8, 2016 General Election Endorsements

The California Labor Federation and local labor councils have announced Labor's endorsements for state and federal races and the ballot measure for the November General election.

California State Assembly

1 Brian Dahle (R)
2 Jim Wood (D)
3 DUAL: Ed Ritchie (D)/ James Gallagher (R)
4 Cecilia Aguiar-Curry (D)
5 Robert Carabas (D)
6 Brian Caples (D)
7 Kevin McCarty (D)
8 Ken Cooley (D)
9 Jim Cooper (D)
10 Marc Levine (D)
11 Jim Frazier (D)
12 Heath Flora (R)
13 Susan Eggman (D)
14 Mae Torlakson (D)
15 Tony Thurmond (D)
16 Cheryl Cook-Kallio (D)
17 David Chiu (D)
18 Rob Bonta (D)
19 Phil Ting (D) )
20 Bill Quirk (D)
21 Adam Gray (D)
22 Kevin Mullin (D)
23 No Recommendation
24 DUAL: Marc Berman (D)/ Vicki Veenker (D)
25 Kansen Chu (D)
26 No Recommendation
27 Ash Kalra (D)
28 Evan Low (D)
29 Mark Stone (D)
30 Refer to Executive Council
31 Joaquin Arambula (D)
32 No Recommendation
33 Scott Markovich (D)
34 Perrin Swanlund (D)
35 Dawn Ortiz-Legg (D)
36 Steve Fox (D)
37 Monique Limon (D)
38 Christy Smith (D)
39 No Recommendation
40 Abigail Medina (D)
41 Chris Holden (D)
42 Greg Rodriguez (D)
43 Ardy Kassakhian (D)
44 Jacqui Irwin (D)
45 No Recommendation
46 Adrin Nazarian (D)
47 No Recommendation
48 Blanca Rubio (D)
49 Ed Chau (D)
50 No Recommendation
51 Jimmy Gomez (D)
52 Freddie Rodriguez (D)
53 Miguel Santiago (D)
54 Sebastian Ridley-Thomas (D)
55 Greg Fritchle (D)
56 Eduardo Garcia (D)
57 Ian Calderon (D)
58 Cristina Garcia (D)
59 Reggie Jones-Sawyer (D)
60 Eric Linder (R)
61 Jose Medina (D)
62 Autumn Burke (D)
63 Anthony Rendon (D)
64 Mike Gipson (D)
65 Sharon Quirk-Silva (D)
66 Al Muratsuchi (D)
67 No Endorsement
68 No Endorsement
69 Tom Daly (D)
70 Patrick O'Donnell (D)
71 No Endorsement
72 No Endorsement
73 No Endorsement
74 No Endorsement
75 No Endorsement
76 No Endorsement
77 No Endorsement
78 Todd Gloria (D)
79 Shirley Weber (D)
80 Lorena Gonzalez (D)

California State Senate

1 Rob Rowen (D)
3 Bill Dodd (D)
5 Cathleen Galgiani (D)
7 No Recommendation
9 DUAL: Nancy Skinner (D)/ Sandre Swanson (D)
11 No Recommendation
13 Jerry Hill (D)
15 Jim Beall (D)
17 Bill Monning (D)
19 Hannah-Beth Jackson (D)
21 Jonathon Ervin (D)
23 No Endorsement
25 Anthony Portantino (D)
27 Henry Stern (D)
29 Josh Newman (D)
31 Richard Roth (D)
33 Ricardo Lara (D)
35 Steven Bradford (D)
37 Ari Grayson (D)
39 Toni Atkins (D)

U.S. House of Representatives

1 Jim Reed (D)
2 Jared Huffman (D)
3 John Garamendi (D)
4 Robert Derlet (D)
5 Mike Thompson (D)
6 Doris Matsui (D)
7 No Recommendation
8 Paul Cook (R)
9 Jerry McNerney (D)
10 Michael Eggman (D)
11 Mark DeSaulnier (D)
12 Nancy Pelosi (D)
13 Barbara Lee (D)
14 Jackie Speier (D)
15 Eric Swalwell (D)
16 No Recommendation
17 Mike Honda (D)
18 Anna Eshoo (D)
19 Zoe Lofgren (D)
20 Jimmy Panetta (D)
21 Emilio Huerta (D)
22 Luis Campos (D)
23 Wendy Reed (D)
24 Salud Carbajal (D)
25 Bryan Caforio (D)
26 Julia Brownley (D)
27 Judy Chu (D)
28 Adam Schiff (D)
29 Tony Cardenas (D)
30 Brad Sherman (D)
31 Pete Aguilar (D)
32 No Recommendation
33 Ted Lieu (D)
34 Xavier Becerra (D)
35 Norma Torres (D)
36 Raul Ruiz (D)
37 Karen Bass (D)
38 Linda Sanchez (D)
39 Brett Murdock (D)
40 Lucille Roybal-Allard (D)
41 Mark Takano (D)
42 Tim Sheridan (D)
43 Maxine Waters (D)
44 Isadore Hall (D)
45 No Endorsement
46 Lou Correa (D)
47 Alan Lowenthal (D)
48 Suzanne Savary (D)
49 Douglas Applegate (D)
50 No Endorsement
51 Juan Vargas (D)
53 No RecommendationBallot Measures


Proposition 51: School Bonds. Funding for K-12 School, Community College Facilities. Recommend: Vote YES

Proposition 52: State Fees on Hospitals. Federal Medi-Cal Matching Funds.
Recommend: Vote YES

Proposition 53: Revenue Bonds. Statewide Voter Approval. (Cortopassi measure)
Recommend: Vote NO

Proposition 54: Legislature. Legislation and Proceedings. (Munger 72-hr Rule)
Recommend: Vote NO

Proposition 55: Tax Extension to Fund Education and Healthcare (Prop. 30 extension) Recommend: Vote YES

Proposition 56: Cigarette Tax to Fund Healthcare, Tobacco Use Prevention, Law Enforcement. Recommend: Vote YES

Proposition 57: Criminal Sentences. Juvenile Criminal Sentencing. (Governor's measure) Recommend: Vote YES

Proposition 58: California Education for a Global Economy. (Repeal Prop. 227)
Recommend: Vote YES

Proposition 59: Campaign Finance: voter instruction. (Citizens United, non-binding) Recommend: Vote YES

Proposition 60: Adult Films. Condoms. Health Requirements. Recommend: No Recommendation

Proposition 61: State Prescription Drug Purchases. Pricing Standards.
Recommend: No Recommendation

Proposition 62: Death Penalty. Repeal. Recommend: Vote YES

Proposition 63: Firearms. Ammunition Sales. Recommend: No Recommendation

Proposition 64: Marijuana Legalization. Recommend: No Recommendation

Proposition 65: Carry-out Bags. Charges. (Plastic bag manufacturers measure)
Recommend: No Recommendation

Proposition 66: Death Penalty. Procedures. (Pro-death penalty)
Recommend: Vote NO

Proposition 67: Referendum to Overturn Ban on Single-Use Plastic Bags. Recommend: Vote YES

United States Senator

Kamala Harris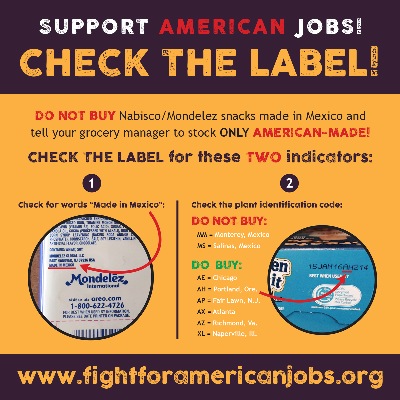 Support American Nabisco Workers

BCTGM members working at Nabisco plants throughout the U.S. take great pride in producing the iconic products that have been a part of millions of Americans' lives for more than 50 years.

Today the BCTGM has launched a public education campaign encouraging Americans to "Check the Label" to support American jobs by ensuring their favorite Nabisco products are produced in America before purchasing.

Through a simple label check, together we can send a powerful message in support of American jobs and products by rejecting those made at poverty-level wages and in unregulated work conditions.

Support American Nabisco workers

1) Check the Label: in the following ways: There are two ways to know if your Nabisco snacks are made in the U.S. or Mexico: Check for the words "Made in Mexico" under the ingredient list Check the plant identification code, which is part of the expiration date code: do not buy if the initials "MM" or "MS" are listed (flyer link). The initials AE, AH, AP, AX, AZ and XL all indicate American-made products.

2) Tell your grocery or convenience store manager to only stock American-made Nabisco products. Send a clear message to companies like this that we will not accept the outsourcing of good American jobs and the American middle class. Do not buy the snacks being produced by Nabisco/Mondelēz in Mexico.

Check the label and ONLY BUY AMERICAN-MADE.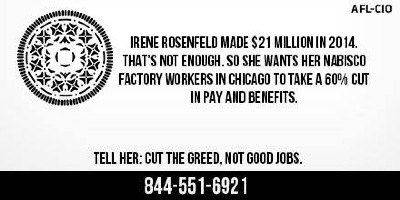 Generations of BCTGM Local 300 families from this Southside Chicago community have produced Nabisco products for more than five decades. Sign this petition to Mondelēz/Nabisco CEO urging her to stop outsourcing American jobs to Mexico: http://bit.ly/1QGFVdA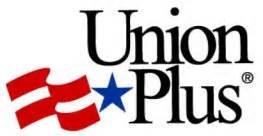 UNION/PLUS Discounts and Savings Website

Union Plus is brought to you by Union Privilege, established by the AFL-CIO to provide consumer benefits to members and retirees of participating labor unions.

It pays to be a Union Member!

Contact Bakers Local 24! All conversations are confidential and we will treat you with respect.

Juan Mejorado, Oscar Hernandez and Veronica Marez are available to listen and help if we can. 650-364-0990

WHAT IS A UNION?

A union is a group of workers who form an organization to gain:

Respect on the job

A counter-balance to the unchecked power of employers

More flexibility for work and family needs

Better wages and benefits


What have unions accomplished for all workers?


Unions have made life better for all working Americans by helping to pass laws ending child labor, establishing the eight-hour day, protecting workers' safety and health and helping create Social Security, unemployment insurance and the minimum wage, for example. Unions are continuing the fight today to improve life for all working families in America.

What challenges do workers face today when they want to form unions?

Today, thousands of workers want to join unions. The wisest employers understand that when workers form unions, their companies also benefit. However, most employers fight workers' efforts to come together by intimidating, harassing and threatening them. In response, workers are reaching out to their communities for help exercising their freedom to improve their lives.

What kinds of workers are forming unions today?

A wider range of people than ever before, including many women and immigrants, are joining unions—doctors and nurses, poultry workers and graduate employees, home health care aides and wireless communications workers, auto parts workers and engineers, and more.

How do unions help working families today?

Through unions, workers win better wages, benefits and a voice on the job—and good union jobs mean stronger communities. Union workers earn 25 percent more pay than nonunion workers and are more likely to receive health care and pension benefits than those without a union. In 2001, median weekly earnings for full-time union wage and salary workers were $718, compared with $575 for their nonunion counterparts. Unions lead the fight today for better lives for working people, such as through expanded family and medical leave, improved safety and health protections, and fair-trade agreements that lift the standard of living for workers all over the world.


How do people form a union?


When workers decide they want to come together to improve their jobs, they work with a union to help them form their own local chapter. Once a majority of workers show that they want a union, sometimes employers honor the workers' choice. Often, the workers must ask the National Labor Relations Board (NLRB) to hold an election. If the workers win the election to be represented by the union, they negotiate a contract with the employer that spells out each party's rights and responsibilities in the workplace.

Contact us at Bakers Local 24 if you have any questions or interest in forming a Union where you work. The National Labor Relations Board rules have changed regarding Union Elections. It is now easier to form a Union and hold a fair Union Election then ever before.

650-364-0990 (Joe, Oscar or Juan)


Your calls will be keep completely confidential and we have bi-lingual Business Agents.


Hispanic Workers and Union Membership

Hispanic workers in labor unions make more money and have better health and retirement benefits than those who aren't members, according to a new report

The Labor Council for Latin American Advancement (LCLAA) report released Monday concludes that organized labor must invest in expanding its outreach to Hispanics to help grow union membership and provide more leverage to strengthen collective bargaining laws.

Latino and immigrant workers are making significant contributions to our country, but are facing unprecedented challenges at the workplace and in their communities," said Hector Sanchez, LCLAA's executive director.

"Over 6.8 million Latino workers are earning poverty level wages and need the economic security the labor movement has ensured for America's middle class," he said.

The report said that Latino workers face higher wage thefts and death rates on the job and the lowest pension and health insurance coverage all while earning the lowest wages.

In one of the most striking findings of the report, Latinos who belong to a union earn on average $11,544 more than those not in unions.

The report also noted that Latinos represent an increasing share of the U.S. population, workforce and voting group as they face growing challenges in the workplace.

"Unions are at historically low levels of membership and urgently need Latinos and immigrant workers in order to grow," the report said.

"If unions are to survive and rebuild in the near future, there is no doubt that Latinos and all minorities will have to join the labor movement," the report said.

In 2014, 9.2 percent of Hispanic workers were members of a union, according to the Commerce Department.

Between 2011 and 2014, the number of Hispanic workers in a union grew by 6.25 percent to more than 2.2 million.

The report argues that "Latinos — by virtue of their enormous presence in the service-sector and construction — will play a pivotal role in bringing unions' share of the workforce back up to healthier levels."

The report comes as labor unions such as the AFL-CIO and congressional Democrats ride the momentum of unions' resurgent popularity.

They are intensifying their calls for legislation that increases wages, allow workers more control over their schedules and give them a stronger voice if they are fired for trying to organize in the workplace.

A study supported by the University of California suggests that participation in a union promotes more community involvement, the report showed.

"Although the current outlook for Latinos is uncertain, their potential for growth is impressive," the LCLAA report says.

"Wielding over $1.5 trillion dollars in purchasing power, making huge gains in the workforce and electorate, it's no surprise that the future for Latinos can be drastically different and positive," the report says.

"But in order to realize this potential, Latinos must harness their strengths and exert their voice in the workplace."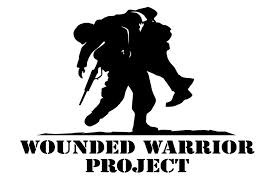 Wounded Warrior Project is a veterans service organization that offers a variety of programs, service and events for wounded veterans of the military actions following the events of September 11, 2001.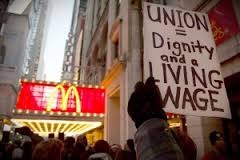 The phrase "wage theft" generally refers to employees being denied full compensation for their work under the law. Often, low-wage and immigrant workers are victims of wage theft and are denied meal breaks, overtime pay and minimum wage and are forced to work off the clock without pay. It is illegal to not pay or to underpay workers their wages.

Wage theft is getting more attention as it is a growing problem. Wage theft can occur when workers are not paid, underpaid or misclassified as independent contractors.

You deserve to be paid fairly for your work, including overtime hours.

The federal Fair Labor Standards Act (FLSA) requires that employees, unless specifically exempted—such as managers, certain sales employees and professionals—must be paid overtime if they work more than 40 hours in a week. The overtime rate must be one-and-one-half times your normal rate of pay after 40 hours of work in a workweek. Normally, overtime pay earned in a particular workweek must be paid on the regular pay day for the pay period in which the wages were earned.


The FLSA also prohibits the overtime requirement from being waived, even by agreement of the employer and employee. It is illegal for your boss to force or intimidate you into giving up your overtime pay, although a recent U.S. Supreme Court decision limited this condition for government employees. However, the law does not set any limits on the number of hours workers older than 16 years can work during a week.


The overtime law is enforced by the Wage and Hour Division of the U.S. Department of Labor. Your employer can be criminally charged for violating the overtime provisions of the FLSA, and it also is illegal for your employer to fire or discriminate against you for filing a complaint about an FLSA overtime violation.

There is a two-year statute of limitations on recovering back pay, unless the FLSA violation was deliberate and willful, in which case the statute of limitations is three years.

If you think you have been denied overtime pay, you can file a complaint with the nearest office of the Wage and Hour Division of the Labor Department. The complaint may be filed in person, by letter or by telephone, but it also must be made in writing. For information about various wage-and-hour and other workplace problems, visit the Interstate Labor Standards Association website.

It shouldn't hurt to go to work. In 2008, more than 4.6 million workers across all industries, including state and local government, suffered work-related injuries and illnesses that were reported by employers, with 3.7 million injuries and illnesses reported in private industry. Due to limitations in the injury reporting system and underreporting of workplace injuries, this number understates the problem. The true toll is estimated to be two to three times greater—or 9 million to 14 million injuries and illnesses a year. The health and safety of America's workers is detailed in the AFL-CIO Death on the Job report.

Experts agree that if you are injured on the job, you should:

Notify your supervisor, the personnel department and your union steward.
Get the medical treatment you need. You may be required to see a doctor selected by your employer. If you are injured on the job, your employer's insurance company is obligated to pay for reasonable and necessary medical treatment.
If your employer has written an "incident report," get a copy of it. Your union steward and the employer should obtain the names of workers who witnessed your injury or assisted you afterward, as you may need this information if you seek workers' compensation benefits.

You also may be entitled to temporary or permanent disability benefits or vocational rehabilitation benefits. If you file a claim for benefits and it is rejected, you may appeal the ruling, even to the courts. Experts recommend seeking legal advice.





.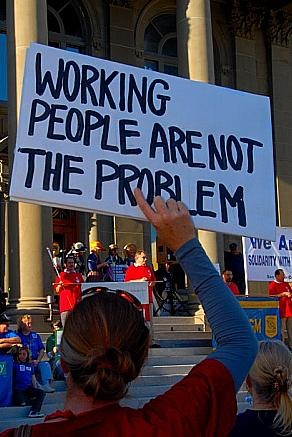 Welcome to Bakers Local 24! The Officers and Office Staff are here to serve you the membership. Please call with questions or issues you are expierencing at your worksite. we will try our best to help you.

Joe, Oscar, Juan or Veronica


You can reach us at 650-364-0990