I would like to share some thoughts on a cause that is close to my heart. I lost my late wife to brain cancer in February 2002. She left us at the early age of 42 in the prime of her life, she left behind four boys, who were all in their teens. This is a devastating disease that effects every family in the world. There have been great strides in the diagnosis and treatment of all forms of cancer but the battle is far from over. I and my family were late in recognizing the signs of my late wives cancer. She was able to fight off the cancer for four years before finally succumbing in 2002. The fight to identify early and treat cancer is ongoing and we should all be in the fight, Please find a way to be involved in this campaign. My late wife ran 10k's and she ran circles around me .Please join a run or walk event promoting and raising awareness if you are able.

Joe Biringer - Secretary Treasurer - Bakers Local 24.

Boudin Bakeries and Boudin SF Cafe's

The Local represents bakers and delivery drivers at the Boudin Bakery facilities in the Bay Area. The flagship location located on Fisherman's Wharf in San Francisco features a glass view front window where you can observe our bakers at work and a Bakery Museum that features the history of the baking industry in San Francisco over the last century. They have cafe's which feature Union made bread all over Northern California. Take the time to visit a Boudin SF near you and support your Union bakers.

KELLOGG'S MEMPHIS TENNESSEE LOCK OUT

A federal judge yesterday granted an injunction ordering the Kellogg Company to end its lockout of 226 BCTGM Local 252G members—at its Memphis cereal plant and reinstate them to their jobs within five days. Judge Samuel H. Mays, of the Western District of Tennessee, also ordered Kellogg to bargain with the union in good faith; offer reinstatement to every worker to their former or equivalent positions; re-establish the same terms and conditions of employment prior to the company's last/best offer; and, submit to the court details of its compliance with the order within 20 days. BCTGM International President David B. Durkee, said, "A federal judge agreed entirely and unequivocally with the union and the National Labor Relations Board. Judge Mays rejected each and every argument Kellogg has made since this dispute began." Durkee noted that the decision validates what the BCTGM has contended since the beginning of the lockout. "Our members and their families have been subjected to more than 280 days of unnecessary pain and suffering at the hands of Kellogg. We applaud Judge Mays for beginning the process of righting this senseless tactic that was brutally imposed on these workers and their families. We look forward to our members returning to do what they do best — producing a quality product," said Durkee. In the decision, Mays said that imposing a lockout over non-mandatory terms is unlawfully coercive and "discriminate[s] against the employees for their participation in protected collective bargaining activity." The BCTGM has argued that Kellogg's proposals in local bargaining would have changed already agreed upon wage rates and benefits for regular employees, thus modifying the terms and conditions contained in the Master Contract that governs such terms and is in effect until October 2015. Mays validates the union's position in his ruling, stating: "Kellogg's proposals were not to change the Casual employee program, as it insists it had the right to demand. Rather, Kellogg effectively demanded changes to the wage rates of new or rehired Regular employees. Those rates are set in the Master Agreement. The good-faith bargaining required by the Act does not allow Kellogg to use creative semantics to force midterm changes in the wages of new or rehired Regular employees in violation of the Master Agreement." Mays concluded that it was "just and proper" to end the lockout. "The lockout, which has deprived the employees of their pay and health insurance, has been ongoing for nine months. The administrative process may continue for many months and even years to come. To allow the lockout to continue through that period would place significant hardship on employees in furtherance of Kellogg's bargaining position, which [the NLRB] has reasonable cause to believe is unlawful. That would undermine the remedial powers of the Board."



















To read more on a possible organizing effort at your workplace click on the Organizing tab on the left.

There are over 30 Panera Bread Cafe's in Local 24 area in California. The Company has not recognized their employees NLRB Election victory in Michigan Panera Bread Café's for over a year. They are simply ignoring the legal election and refusing to negotiate a first contract. You can help put national pressure on Panera to finally do the right thing, sit down and negotiate with BCTGM Panera Bread Cafe members

Again, if you know anyone who works at or knows someone who works at a Panera Bread Café and would like to talk to someone at Local 24, we are available to met anywhere with them. All meetings will be kept confidential.

We are also encouraging all Local 24 members and families to take a picture of themselves in front of a Panera Bread Café holding a sign saying '"We support the BCTGM Panera Bakers" or something along those lines. Then post it to their own YouTube account or to their twitter account with one of the many hash-tags leading to Panera for example #PaneraUnionYes.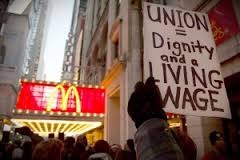 The phrase "wage theft" generally refers to employees being denied full compensation for their work under the law. Often, low-wage and immigrant workers are victims of wage theft and are denied meal breaks, overtime pay and minimum wage and are forced to work off the clock without pay. It is illegal to not pay or to underpay workers their wages.

Wage theft is getting more attention as it is a growing problem. Wage theft can occur when workers are not paid, underpaid or misclassified as independent contractors.

You deserve to be paid fairly for your work, including overtime hours.

The federal Fair Labor Standards Act (FLSA) requires that employees, unless specifically exempted—such as managers, certain sales employees and professionals—must be paid overtime if they work more than 40 hours in a week. The overtime rate must be one-and-one-half times your normal rate of pay after 40 hours of work in a workweek. Normally, overtime pay earned in a particular workweek must be paid on the regular pay day for the pay period in which the wages were earned.


The FLSA also prohibits the overtime requirement from being waived, even by agreement of the employer and employee. It is illegal for your boss to force or intimidate you into giving up your overtime pay, although a recent U.S. Supreme Court decision limited this condition for government employees. However, the law does not set any limits on the number of hours workers older than 16 years can work during a week.


The overtime law is enforced by the Wage and Hour Division of the U.S. Department of Labor. Your employer can be criminally charged for violating the overtime provisions of the FLSA, and it also is illegal for your employer to fire or discriminate against you for filing a complaint about an FLSA overtime violation.

There is a two-year statute of limitations on recovering back pay, unless the FLSA violation was deliberate and willful, in which case the statute of limitations is three years.

If you think you have been denied overtime pay, you can file a complaint with the nearest office of the Wage and Hour Division of the Labor Department. The complaint may be filed in person, by letter or by telephone, but it also must be made in writing. For information about various wage-and-hour and other workplace problems, visit the Interstate Labor Standards Association website.

It shouldn't hurt to go to work. In 2008, more than 4.6 million workers across all industries, including state and local government, suffered work-related injuries and illnesses that were reported by employers, with 3.7 million injuries and illnesses reported in private industry. Due to limitations in the injury reporting system and underreporting of workplace injuries, this number understates the problem. The true toll is estimated to be two to three times greater—or 9 million to 14 million injuries and illnesses a year. The health and safety of America's workers is detailed in the AFL-CIO Death on the Job report.

Experts agree that if you are injured on the job, you should:

Notify your supervisor, the personnel department and your union steward.
Get the medical treatment you need. You may be required to see a doctor selected by your employer. If you are injured on the job, your employer's insurance company is obligated to pay for reasonable and necessary medical treatment.
If your employer has written an "incident report," get a copy of it. Your union steward and the employer should obtain the names of workers who witnessed your injury or assisted you afterward, as you may need this information if you seek workers' compensation benefits.

You also may be entitled to temporary or permanent disability benefits or vocational rehabilitation benefits. If you file a claim for benefits and it is rejected, you may appeal the ruling, even to the courts. Experts recommend seeking legal advice.



(Pictured are Local 24 Safeway In-store members circa 2014)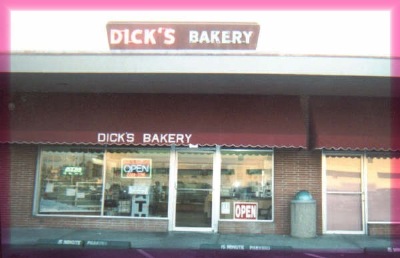 CELEBRATING 45 YEARS OF TOP QUALITY PASTRIES

Baker's Local 24 is proud to celebrate with Dick;s Bakery in over a half century providing top quality Union Made pastry goods in the the San Jose Area.

The family owned, fully Union business is operated by Aaron and Laurel Sota with bakers Filomema Juan and Earnest provide top quality fresh baked goods.

Located at the intersection of Meridian and Hamilton in San Jose.



.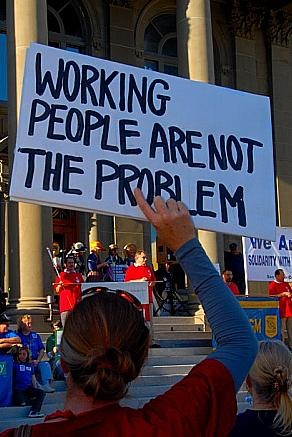 Welcome to Bakers Local 24! The Officers and Office Staff are here to serve you the membership. Please call with questions or issues you are expierencing at your worksite. we will try our best to help you.

Joe, Oscar, Juan or Veronica


You can reach us at 650-364-0990